With the release of this week's fabulous
wedding themed items
in Pet Society, Jean-Pierre and Daisy dove in to tie the knot after a long engagement. (Daisy was upset Jean didn't manage to snag the Diamond Ring before it left stores in a clearance sale in Fall 2009, but he has fondly sent her many Expensive Mystery boxes since.) Here's a peek at some of their wedding photos:

Jean-Pierre opted for the Classic Tux, a sophisticated (and cheaper!) option than this week's new Purple Wedding Tux. Daisy was indecisive and bought all three of this week's new gowns!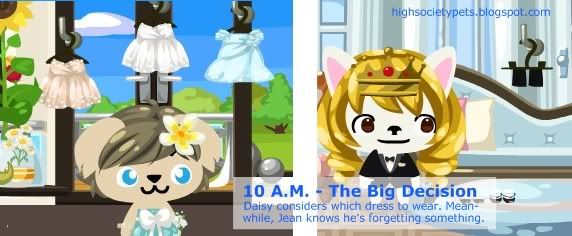 She finally decided on her favorite - the light blue gown. Jean-Pierre did eventually figure out that it was his pants he was missing (and luckily, before the ceremony.)
Jean-Pierre was drinking last week's Ristorante Box Grape Juice, of course. And it made him much less nervous about his big day!
Friends Rocky and Basil attended the ceremony, which was held in Jean-Pierre's front garden. Hideeni did the honor of serving as presider, and even changed into his old chicken suit for the occasion.
Did your pet get hitched this week? Tell us if your pet has a special someone!