Goooooal! Playfish released a new set of celebratory FIFA World Cup items this week to get pets into the game. The soccer-themed set is available at the Market under Cool Stuff. Maybe Hideeni's up for a match!
Your pet can buy items individually or choose to purchase the entire set (at a considerable discount!)
Here are the items within the set (which also makes a great Pet Society gift for anyone excited about the World Cup!). Not shown are Grey Soccer Cleats and Referee's Cleats.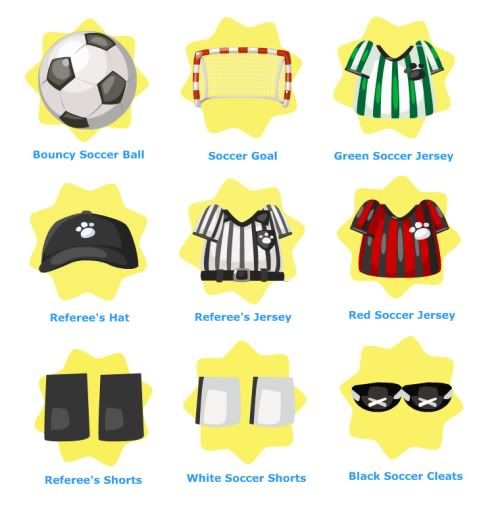 These items are World Cup Specials and are available until June 12th. Speaking of Hideeni, he's also dolled up for the World Cup, offering a set of flags for some of the 32 qualifying countries! Playfish says they'll watch matches and remove flags when countries are knocked out of the standing.
Many players on Pet Society's fanpage wish their country had gotten a flag, as not all 32 countries competing were included in the set.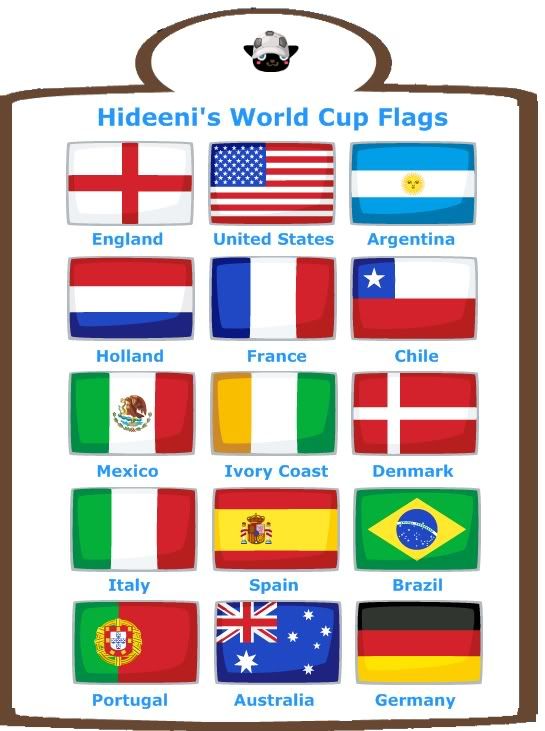 Jean-Pierre is a big soccer fan and was excited to see the set of items released to celebrate. He's gotten his Italy flag and is set to cheer them on during their matches! The Bouncy Soccer Ball costs 1000 coins at the market and and is by far our favorite World Cup item--pets will kick it around and cheer for themselves, though they have to discover it on their own (you can't click on the ball to have them kick it.)
What country are you rooting for in the FIFA World Cup? Did your country get a flag in Hideeni's set?